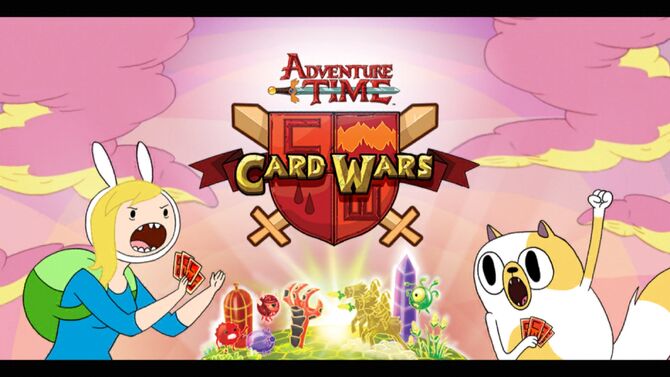 Fionna & Cake Adventure is a secondary quest map that was introduced in the 1.50 update. It costs $3.00 to purchase.
Getting quest stars can now introduce hidden paths to new quests.
Regular heros can not be used in these quests. You can currently only use Fionna or Cake as a hero.
There are Bosses on this quest map. They drop some pretty good cards.
Treasure Cats appear once a day on this map. They may drop any card from the new update.
Quest Map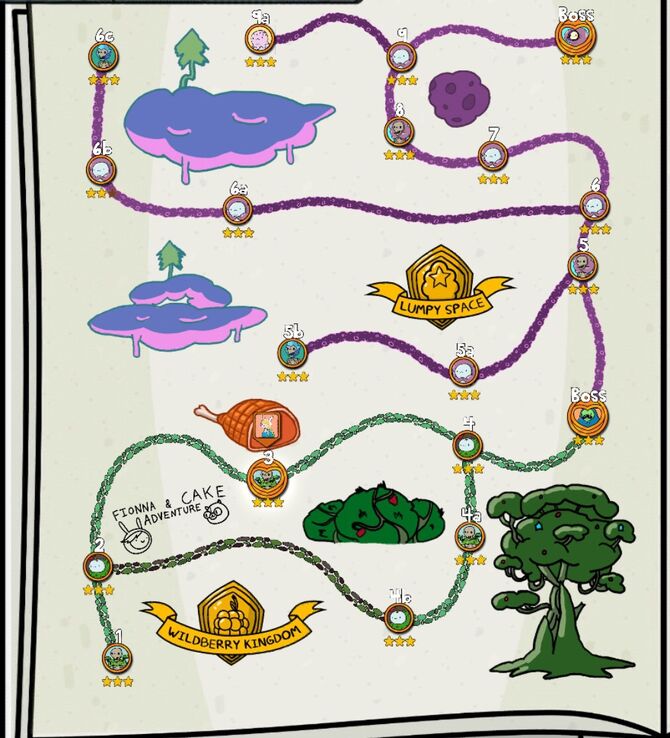 Quests 1 - Quest Boss (Wildberry Kingdom)
Quest 1
Hero Ability: (4 Turns) Return any card from discard pile back to your hand.

Quest 1

1

Hero Lvl: 5

35

:Win once.

:Beat 10 enemy creatures.

:Beat the opponent without using spell cards.

XP: 

Coins: 

Possible Loot:
Quest 2
Hero Ability: (3 Turns) Fully heal all of your creatures.

Quest 2

1

Hero Lvl: 5

35

: Win once.

: Don't lose more than 25 Hp on your Hero.

: Beat the opponent without using Building cards.

XP: 

Coins: 

Possible Loot:
Quest 3
Hero Ability: (4 Turns) Return any card from discard pile back to your hand.

Quest 3

1

Hero Lvl: 6

40

: Win once.

: Beat the opponent using only Nice Lands cards.

: Don't use any floops.

XP: 

Coins: 

Possible Loot:
Quest 4
Hero Ability: (3 Turns) Fully heal all of your creatures.

Quest 4

2

Hero Lvl: 6

40


: Win once.

: Use three different landscapes.

: Beat the opponent without using Spell cards.

XP: 

Coins: 

Possible Loot:
Quest 4a
Hero Ability: (4 Turns) Return any card from discard pile back to your hand.

Quest 4a

2

Hero Lvl: 7

45

: Win once.

: Defeat at least 15 enemy creatures.

: Beat the opponent 5 turns or less.

XP: 

Coins: 

Possible Loot:
Quest 4b
Hero Ability: (3 Turns) Fully heal all of your creatures.

Quest 4b

1

Hero Lvl: 6

40

: Win once.

: Use three different landscapes.

: Don't lose more than 5 creatures.

XP: 

Coins: 

Possible Loot:
Quest 4b Bonus Level
Hero Ability: (3 Turns) All of your creatures gain +3 Attack.

Quest 4b

3

Hero Lvl: 14

80

: Win once.

: Beat the opponent without using Rainbow cards.

: Beat the opponent without using Building cards.

XP: 

Coins: 

Possible Loot:
Quest Boss
Hero Ability: (3 Turns) Draw 2 cards.

Quest Boss

3

Hero Lvl: 9

55

: Win once.

: Beat the opponent without using Rainbow cards.

: Beat the opponent 10 turns or less.

XP: 

Coins: 

Possible Loot:
Quests 5 - Quest Boss (Lumpy Space)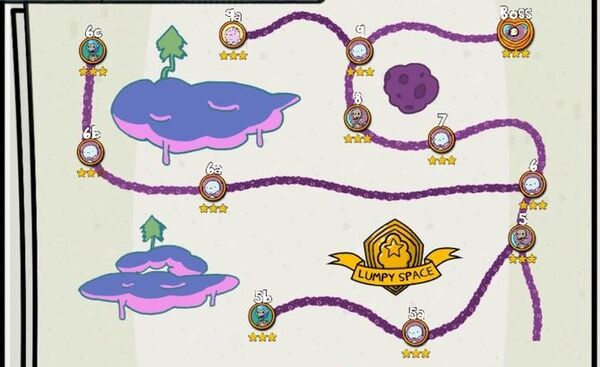 Quest 5
Blumps

Hero Ability: (3 Turns) All of your creatures gain +3 Attack.

Quest 5

2

Hero Lvl: 7

45

: Win once.

: Beat the opponent without using Building cards.

: Beat the opponent using only Creature cards.

XP: 

Coins: 

Possible Loot:
Quest 5a
Slumpy

Hero Ability: (3 Turns) All creatures summoned this turn cost 1 less Magic Point.

Quest 5a

2

Hero Lvl: 8

50

: Win once.

: Beat the opponent in 7 turns or less.

: Defeat at least 15 Creatures.

XP: 

Coins: 

Possible Loot:
Quest 5b
BoneChill

Hero Ability: (3 Turns) Gain 3 extra Magic Points for 1 turn.

Quest 5b

2

Hero Lvl: 9

55

: Win once.

: Beat the opponent using only Rainbow cards.

: Don't lose more than 10 HP on your Hero.

XP: 

Coins: 

Possible Loot:
Quest 6
Slumpy

Hero Ability: (3 Turns) All creatures summoned this turn cost 1 less Magic Point.

Quest 6

2

Hero Lvl: 8

50

: Win once.

: Beat the opponent without using Corn cards.

: Beat the opponent without using Spell cards.

XP: 

Coins: 

Possible Loot:
Quest 6a
Slumpy

Hero Ability: (3 Turns) All creatures summoned this turn cost 1 less Magic Point.

Quest 6a

2

Hero Lvl: 8

50

: Win once.

: Beat the opponent using only Blue Plains cards.

: Beat the opponent in 10 turns or less.

XP: 

Coins: 

Possible Loot:
Quest 6b
Slumpy

Hero Ability: (3 Turns) All creatures summoned this turn cost 1 less Magic Point.

Quest 6b

2

Hero Lvl: 9

55

: Win once.

: Beat the opponent using only Rainbow cards.

: Defeat at least 20 Creatures.

XP: 

Coins: 

Possible Loot:
Quest 6c
BoneChill

Hero Ability: (3 Turns) Gain 3 extra Magic Points for 1 turn.

Quest 6c

2

Hero Lvl: 9

55

: Win once.

: Don't use any floops.

: Beat the opponent using only Corn cards.

XP: 

Coins: 

Possible Loot:
Quest 7
Slumpy

Hero Ability: (3 Turns) All creatures summoned this turn cost 1 less Magic Point.

Quest 7

2

Hero Lvl: 10

60

: Win once.

: Beat the opponent using only Creature cards.

: Don't lose more than 2 crreatures.

XP: 

Coins: 

Possible Loot:
Quest 8
Blumps

Hero Ability: (3 Turns) All of your creatures gain +3 Attack.

Quest 8

2

Hero Lvl: 10

60

: Win once.

: Beat the opponent using only Useless Swamp cards.

: Beat the opponent in 7 turns or less.

XP: 

Coins: 

Possible Loot:
Quest 9
Slumpy

Hero Ability: (3 Turns) All creatures summoned this turn cost 1 less Magic Point.

Quest 9

2

Hero Lvl: 11

65

: Win once.

: Beat the opponent using only Corn cards.

: Beat the opponent in 5 turns or less.

XP: 

Coins: 

Possible Loot:
Quest 9a
SnowNut

Hero Ability: (3 Turns) All Spells cast this turn cost 2 less Magic Point.

Quest 9a

3

Hero Lvl: 11

65

: Win once.

: Use three different landscapes.

: Defeat at least 20 Creatures.

XP: 

Coins: 

Possible Loot:
Quest Boss
Lumpy Mimic

Hero Ability: (3 Turns) Gain 2 extra Magic Points for 1 turn.

Quest Boss

3

Hero Lvl: 15

85

: Win once.

: Beat the opponent using only Sandy Land cards.

: Beat the opponent using only Nice Lands cards.

XP: 

Coins: 

Possible Loot:
Quests 10 - Quest 14 (Witch's Garden)
Quest 10
Hero Ability: (5 Turns) Gain 2 extra Magic Points for 1 turn.

Quest 10

3

Hero Lvl: 11

65

:Win once.

:Don't lose more than 10 HP on your Hero.

:Beat the opponent using only Useless Swamp cards.

XP: 

Coins: 

Possible Loot:
Quest 11
Hero Ability: (3 Turns) All your creatures gain +3 Defense.

Quest 11

3

Hero Lvl: 12

70

:Win once.

:Use four different landscapes.

:Don't use more than 10 Magic Points total.

XP: 

Coins: 

Possible Loot:
Quest 11a
Hero Ability: (3 Turns) All your creatures gain +3 Defense.

Quest 11a

3

Hero Lvl: 16

90

:Win once.

:Use three different landscapes.

:Beat the opponent using only Blue Plains cards.

XP: 

Coins: 

Possible Loot:
Quest 11b
Hero Ability: (3 Turns) Gain 3 extra Magic Points for 1 turn.

Quest 11b

3

Hero Lvl: 14

80

:Win once.

:Beat the opponent using only Nice Lands cards.

:Beat the opponent without using Spell cards.

XP: 

Coins: 

Possible Loot:
Quest 11c
Hero Ability: (5 Turns) Gain 2 extra Magic Points for 1 turn.

Quest 11c

3

Hero Lvl: 14

80

:Win once.

:Beat the opponent without using Rainbow cards.

:Beat the opponent without using Building cards.

XP: 

Coins: 

Possible Loot:
Quest 12
DonutGoon

Hero Ability: (3 Turns) All of your creatures gain +5 Attack.

Quest 12

3

Hero Lvl: 14

80

:Win once.

:Don't lose more than 25 HP on your Hero.

:Beat the opponent using only Corn cards.

XP: 

Coins: 

Possible Loot:
Quest 12 Bonus Level
Hero Ability: (3 Turns) All spell cast this turn cost 2 less Magic Point.

Quest 12

3

Hero Lvl: 18

100

:Win once.

:Beat the opponent without using Building cards.

:Beat the opponent without using Corn cards.

XP: 

Coins: 

Possible Loot:
Quest 13
Hero Ability: (5 Turns) Gain 2 extra Magic Points for 1 turn.

Quest 13

3

Hero Lvl: 12

70

:Win once.

:Beat the opponent without using Building cards.

:Beat the opponent using only Blue Plains cards.

XP: 

Coins: 

Possible Loot:
Quest 14
DonutGoon

Hero Ability: (3 Turns) All of your creatures gain +5 Attack.

Quest 14

3

Hero Lvl: 12

70

:Win once.

:Beat the opponent without using Building cards.

:Beat the opponent in 7 turns or less.

XP: 

Coins: 

Possible Loot:
Quests 15 - Quest Boss (Ice Kingdom)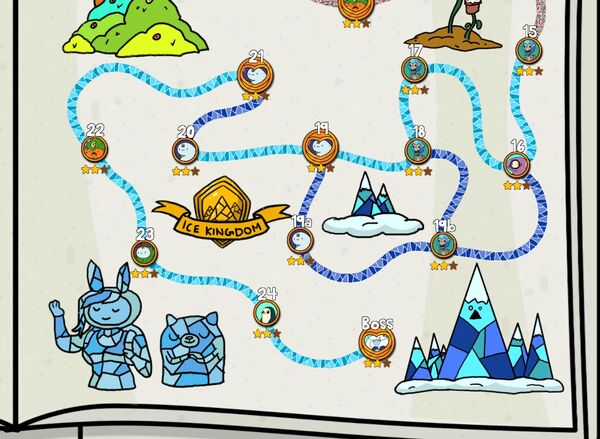 Quest 15
Hero Ability: (3 Turns) Gain 3 extra Magic Points for 1 turn.

Quest 15

3

Hero Lvl: 18

100

:Win once.

:Beat the opponent without using Spell cards.

:Beat the opponent without using Building cards.

XP: 

Coins: 

Possible Loot:
Quest 16
Hero Ability: (3 Turns) Gain 2 extra Magic Points for 1 turn.

Quest 16

3

Hero Lvl: 19

105

(It copies your deck)

:Win once.

:Don't use more than three floops.

:Beat the opponent using only Creature cards.

XP: 

Coins: 

Possible Loot:
Quest 17
Hero Ability: (3 Turns) Gain 3 extra Magic Points for 1 turn.

Quest 17

3

Hero Lvl: 19

105

:Win once.

:Beat the opponent without using Building cards.

:Don't lose more than 10 creatures.

XP: 

Coins: 

Possible Loot:
Quest 18
Hero Ability: (3 Turns) Gain 3 extra Magic Points for 1 turn.

Quest 18

3

Hero Lvl: 22

120

:Win once.

:Defeat at least 10 creatures.

:Don't lose more than 25 HP on your Hero.

XP: 

Coins: 

Possible Loot:
Quest 19
Hero Ability: (3 Turns) All spell cast this turn cost 2 less Magic Points.

Quest 19

3

Hero Lvl: 21

115

:Win once.

:Don't use more than three floops.

:Beat the opponent without using Building cards.

XP: 

Coins: 

Possible Loot:
Quest 19a
Hero Ability: (3 Turns) All spell cast this turn cost 2 less Magic Points.

Quest 19a

4

Hero Lvl: 24

130

:Win once.

:Don't lose more than 50 HP on your Hero.

:Beat the opponent without using Spell cards.

XP: 

Coins: 

Possible Loot:
Quest 19b
Hero Ability: (3 Turns) Gain 3 extra Magic Points for 1 turn.

Quest 19b

4

Hero Lvl: 25

135

:Win once.

:Beat the opponent without using Spell cards.

:Beat the opponent using only Creature cards.

XP: 

Coins: 

Possible Loot:
Quest 20
Hero Ability: (3 Turns) All spell cast this turn cost 2 less Magic Points.

Quest 20

4

Hero Lvl: 23

125

:Win once.

:Don't lose more than 50 HP on your Hero.

:Beat the opponent using only Creature cards.

XP: 

Coins: 

Possible Loot:
Quest 21
Hero Ability: (3 Turns) All spell cast this turn cost 2 less Magic Points.

Quest 21

4

Hero Lvl: 25

135

:Win once.

:Don't use more than three floops.

:Don't lose more than 50 HP on your Hero.

XP: 

Coins: 

Possible Loot:
Quest 22
DonutGoon

Hero Ability: (3 Turns) All of your creatures gain +5 Attack.

Quest 22

4

Hero Lvl: 25

135

:Win once.

:Defeat at least 20 creatures.

:Beat the opponent without using Spell cards.

XP: 

Coins: 

Possible Loot:
Quest 23
SnowBerry

Hero Ability: (3 Turns) Fully heal all of your creatures.

Quest 23

4

Hero Lvl: 25

135

:Win once.

:Beat the opponent without using Spell cards.

:Beat the opponent without using Building cards.

XP: 

Coins: 

Possible Loot:
Quest 24
Hero Ability: (3 Turns) Return any Spell card from Discard Pile to your hand.

Quest 24

5

Hero Lvl: 25

135

:Win once.

:Don't lose more than 25 HP on your Hero.

:Use four different landscapes.

XP: 

Coins: 

Possible Loot:
Quest Boss
Hero Ability: (3 Turns) All your creatures gain +4 Defense.

Quest Boss

5

Hero Lvl: 27

145

:Win once.

:Beat the opponent using only Nice Lands cards.

:Beat the opponent without using Building cards.

XP: 

Coins: 

Possible Loot:
Quest Boss Bonus Level
Hero Ability: (3 Turns) All your creatures gain +4 Defense.

Quest Boss

5

Hero Lvl: 27

145

:Win once.

:

:

XP: 

Coins: 

Possible Loot:
Quests 1 - Quest 11 (Marshmallowy Mweadows)
Quest 1
Hero Ability: (4 Turns) Return any card from discard pile back to your hand.

Quest 1

1

Hero Lvl: 2

20

:Win once.

:Beat the opponent without using Spell cards.

:Beat the opponent using only spell cards.

XP: 

Coins: 

Possible Loot:
Quest 2
Hero Ability: (4 Turns) Return any card from discard pile back to your hand.

Quest 2

1

Hero Lvl: 6

40

:Win once.

:Beat the opponent without using Building cards.

:Don't use cards with more than 1 Magic Points.

XP: 

Coins: 

Possible Loot:
Quest 2b
Hero Ability: (3 Turns) Fully heal all of your Creature cards.

Quest 2b

2

Hero Lvl: 11

65

:Win once.

:Beat the opponent using only Creature cards.

:Don't use more than 1 floop.

XP: 

Coins: 

Possible Loot:
Quest 3
Hero Ability: (4 Turns) Return any card from discard pile back to your hand.

Quest 3

2

Hero Lvl: 7

45

:Win once.

:Beat the opponent without using Spell cards.

:Beat the opponent using only Sandy Lands cards.

XP: 

Coins: 

Possible Loot:
Quest 3b
Hero Ability: (3 Turns) Fully heal all of your Creature cards.

Quest 3b

3

Hero Lvl: 13

75

:Win once.

:Beat the opponent using only Corn cards.

:Don't lose more than 5 creatures.

XP: 

Coins: 

Possible Loot:
Quest 4
Hero Ability: (4 Turns) Return any card from discard pile back to your hand.

Quest 4

2

Hero Lvl: 8

50

:Win once.

:Beat the opponent without using Spell cards.

:Use four different landscapes.

XP: 

Coins: 

Possible Loot:
Quest 4b
Hero Ability: (3 Turns) Fully heal all of your Creature cards.

Quest 4b

3

Hero Lvl: 15

85

:Win once.

:Beat the opponent using only Blue Plains cards.

:Defeat at least 10 Creatures.

XP: 

Coins: 

Possible Loot:
Possible Chest Drop Rate:
| Chest | Drop Rate |
| --- | --- |
| First Chest | %80 |
| Second Chest | %50 |
| Third Chest | %25 |
| Fourth Chest | %15 |
| Fifth Chest | %5 |