For the Glory! In Deck Wars, you can compete against other users. The average Deck Wars tournament lasts for 2 weeks.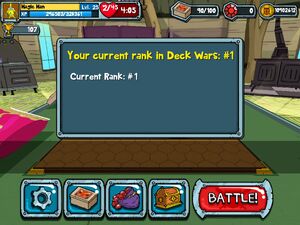 The heart's cost upgrades when you level up your hero's level:
Level 1-3 requires 1
Level 4-5 requires 2
Level 6-7 requires 3
Level 8-9 requires 4
Level 10-50 requires 5
Instructions
[
]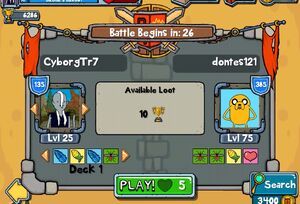 When you start a battle, you will see the following below. If you win a game in Deck Wars, you will get anywhere from 4-10 trophies. If you win more games in a row, you get extra trophies. If you lose or give up, you only win one trophy. The more trophies you win, the more you have a chance to win.There are also Win Streaks. so You get Win Streaks when you win two or more games in a row , but when you lose your Win Streak is set back to 0. When you have a win streak you will get more trophies from that game. You can get a maximum of +4 trophies , so maximum number of trophies you can get in Deck Wars is 14.
Prizes
[
]
At the end of a Deck Wars tournament, you will receive prizes. When you come in First Place, you will get a Black Card of the following.
If you come in First through Tenth Place, you will get a Gold Card of the following.
When you come in 1st-25th place, you get 2

, which can be helpful to open Algebraic Chests, expand your card box, restore your hearts or to have a second try at a battle if you lose. When you come in 1st-50th place you get 100,000 coins and when you come in 1st-100th place, you get 10,000 coins.
Bugs

[

]
In the first round of deck wars, if you nor the opponent does not place any creatures on their turn, the game will freeze up. The only way to fix this glitch is by completely exiting the game and going back in.
If you forfeit the game there's a chance the game will freeze up during your turn.
All of the opponent's heroes have a Finn texture in game even if the opponent's hero is not Finn. (Fixed)