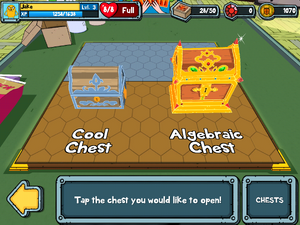 Chests are an uncommon drop from your opponent's creatures once they are destroyed, and can also be bought using coins or gems from the main screen. Each chest has a single card in it, which will vary in rarity and strength depending on the kind of chest.
A maximum of 3 chests may drop in each match.
Dropped Chests
[
]
There are five types of chests which can be found after destroying an enemy card. The colors and stars on the chest correspond to their rarity and that of the cards they contain.
Cool: Brown with 1 stars
Nice: Red with 2 stars
Rare: Silver with 3 stars
Very Rare: Gold with 4 stars
Algebraic Rare: Skeleton with 5 stars
Purchasable Chests
[
]
Cool Chest

[

]
This chest can be bought for 10,000 Coins. It will supply either a 1, 2, 3, 4 or 5 star rarity card. It's not necessarily worth purchasing, since most of these cards aren't worth the coins you spend, and can be obtained later on for free. However, it is a good way to obtain unique cards and save time getting cards for crafting, should you have excess coins that you don't mind using.
Algebraic Chest

[

]
This chest can also be bought, but for 3 Gems. The difference is that this chest has a guaranteed chance of dropping at least a 3 Star rarity card, making it worth the gems you spend. There is a glitch where you can no longer get rare cards.
| Card | Type | No Carnival | Hero Card Carnival | Corn Carnival | Plains Party | Swamp Shindig | Nicelands Jubilee | Sandy Beach Bash | Rare Card Carnival | Gold Carnival |
| --- | --- | --- | --- | --- | --- | --- | --- | --- | --- | --- |
| Comfy Cave | Building | 1.279% | 0.899% | 0.985% | 0.985% | 0.985% | 0.985% | 0.992% | 0.971% | 1.044% |
| Palace of Bone | Building | 1.279% | 0.899% | 0.985% | 0.985% | 0.985% | 0.985% | 0.992% | 0.971% | 1.044% |
| Sand Pyramid | Building | 1.279% | 0.899% | 0.985% | 0.985% | 0.985% | 0.985% | 0.992% | 0.971% | 1.044% |
| Silo of Truth | Building | 1.279% | 0.899% | 0.985% | 0.985% | 0.985% | 0.985% | 0.992% | 0.971% | 1.044% |
| Ash | Hero | 1.279% | 3.597% | 0.985% | 0.985% | 0.985% | 0.985% | 0.992% | 0.971% | 1.044% |
| BMO | Hero | 1.279% | 3.597% | 0.985% | 0.985% | 0.985% | 0.985% | 0.992% | 0.971% | 1.044% |
| Doctor Finn | Hero | 1.279% | 3.597% | 0.985% | 0.985% | 0.985% | 0.985% | 0.992% | 0.971% | 1.044% |
| Earl of Lemongrab | Hero | 1.279% | 3.597% | 0.985% | 0.985% | 0.985% | 0.985% | 0.992% | 0.971% | 1.044% |
| Gunter | Hero | 1.279% | 3.597% | 0.985% | 0.985% | 0.985% | 0.985% | 0.992% | 0.971% | 1.044% |
| Hunson Abadeer | Hero | 1.279% | 3.597% | 0.985% | 0.985% | 0.985% | 0.985% | 0.992% | 0.971% | 1.044% |
| Lumpy Space Princess | Hero | 1.279% | 3.597% | 0.985% | 0.985% | 0.985% | 0.985% | 0.992% | 0.971% | 1.044% |
| Magic Man | Hero | 1.279% | 3.597% | 0.985% | 0.985% | 0.985% | 0.985% | 0.992% | 0.971% | 1.044% |
| Peppermint Butler | Hero | 1.279% | 3.597% | 0.985% | 0.985% | 0.985% | 0.985% | 0.992% | 0.971% | 1.044% |
| Princess Cookie | Hero | 1.279% | 3.597% | 0.985% | 0.985% | 0.985% | 0.985% | 0.992% | 0.971% | 1.044% |
| Ricardio Heart Guy | Hero | 1.279% | 3.597% | 0.985% | 0.985% | 0.985% | 0.985% | 0.992% | 0.971% | 1.044% |
| Big Foot | Regular Creature | 1.279% | 0.899% | 0.985% | 0.985% | 0.985% | 0.985% | 0.992% | 0.971% | 1.044% |
| Corn Ronin | Regular Creature | 1.279% | 0.899% | 2.954% | 0.985% | 0.985% | 0.985% | 0.992% | 0.971% | 1.044% |
| Detective Bobby | Regular Creature | 1.279% | 0.899% | 0.985% | 0.985% | 0.985% | 2.954% | 0.992% | 0.971% | 1.044% |
| Dog Boy | Regular Creature | 1.279% | 0.899% | 0.985% | 0.985% | 0.985% | 2.954% | 0.992% | 0.971% | 1.044% |
| Earl | Regular Creature | 1.279% | 0.899% | 0.985% | 0.985% | 0.985% | 0.985% | 0.992% | 0.971% | 1.044% |
| Future Scholar | Regular Creature | 1.279% | 0.899% | 0.985% | 0.985% | 0.985% | 0.985% | 0.992% | 0.971% | 1.044% |
| Ghost Ninja | Regular Creature | 1.279% | 0.899% | 0.985% | 0.985% | 0.985% | 0.985% | 0.992% | 0.971% | 1.044% |
| Green Mermaid | Regular Creature | 1.279% | 0.899% | 0.985% | 0.985% | 2.954% | 0.985% | 0.992% | 0.971% | 1.044% |
| Heifergeist | Regular Creature | 1.279% | 0.899% | 0.985% | 2.954% | 0.985% | 0.985% | 0.992% | 0.971% | 1.044% |
| Huskerbat | Regular Creature | 1.279% | 0.899% | 2.954% | 0.985% | 0.985% | 0.985% | 0.992% | 0.971% | 1.044% |
| Ice Paladin | Regular Creature | 1.279% | 0.899% | 0.985% | 0.985% | 0.985% | 0.985% | 0.992% | 0.971% | 1.044% |
| Mud Angel | Regular Creature | 1.279% | 0.899% | 0.985% | 0.985% | 0.985% | 0.985% | 2.977% | 0.971% | 1.044% |
| Patchy the Pumpkin | Regular Creature | 1.279% | 0.899% | 2.954% | 0.985% | 0.985% | 0.985% | 0.992% | 0.971% | 1.044% |
| Psionic Architect | Regular Creature | 1.279% | 0.899% | 0.985% | 2.954% | 0.985% | 0.985% | 0.992% | 0.971% | 1.044% |
| Punk Cat | Regular Creature | 1.279% | 0.899% | 0.985% | 2.954% | 0.985% | 0.985% | 0.992% | 0.971% | 1.044% |
| Record Thug | Regular Creature | 1.279% | 0.899% | 0.985% | 0.985% | 2.954% | 0.985% | 0.992% | 0.971% | 1.044% |
| Red Eyeling | Regular Creature | 1.279% | 0.899% | 0.985% | 0.985% | 2.954% | 0.985% | 0.992% | 0.971% | 1.044% |
| Sand Jackal | Regular Creature | 1.279% | 0.899% | 0.985% | 0.985% | 0.985% | 0.985% | 2.977% | 0.971% | 1.044% |
| Sandfoot | Regular Creature | 1.279% | 0.899% | 0.985% | 0.985% | 0.985% | 0.985% | 2.977% | 0.971% | 1.044% |
| Temporal Wisp | Regular Creature | 1.279% | 0.899% | 0.985% | 2.954% | 0.985% | 0.985% | 0.992% | 0.971% | 1.044% |
| The Cow | Regular Creature | 1.279% | 0.899% | 0.985% | 0.985% | 0.985% | 2.954% | 0.992% | 0.971% | 1.044% |
| The Sludger | Regular Creature | 1.279% | 0.899% | 2.954% | 0.985% | 0.985% | 0.985% | 0.992% | 0.971% | 1.044% |
| Tree of Underneath | Regular Creature | 1.279% | 0.899% | 0.985% | 0.985% | 2.954% | 0.985% | 0.992% | 0.971% | 1.044% |
| Wall of Sand | Regular Creature | 1.279% | 0.899% | 0.985% | 0.985% | 0.985% | 0.985% | 2.977% | 0.971% | 1.044% |
| Well Dressed Wolf | Regular Creature | 1.279% | 0.899% | 0.985% | 0.985% | 0.985% | 2.954% | 0.992% | 0.971% | 1.044% |
| Bubblegum Butt | Spell | 1.279% | 0.899% | 0.985% | 0.985% | 0.985% | 0.985% | 0.992% | 0.971% | 1.044% |
| Clairvoyant Daggerstorm | Spell | 1.279% | 0.899% | 0.985% | 0.985% | 0.985% | 0.985% | 0.992% | 0.971% | 1.044% |
| Cough Syrup | Spell | 1.279% | 0.899% | 0.985% | 0.985% | 0.985% | 0.985% | 0.992% | 0.971% | 1.044% |
| Dark Portal | Spell | 1.279% | 0.899% | 0.985% | 0.985% | 0.985% | 0.985% | 0.992% | 0.971% | 1.044% |
| Falling Star | Spell | 1.279% | 0.899% | 0.985% | 0.985% | 0.985% | 0.985% | 0.992% | 0.971% | 1.044% |
| Field of Nightmares | Spell | 1.279% | 0.899% | 0.985% | 0.985% | 0.985% | 0.985% | 0.992% | 0.971% | 1.044% |
| Hot Dog Rain | Spell | 1.279% | 0.899% | 0.985% | 0.985% | 0.985% | 0.985% | 0.992% | 0.971% | 1.044% |
| Witch Way | Spell | 1.279% | 0.899% | 0.985% | 0.985% | 0.985% | 0.985% | 0.992% | 0.971% | 1.044% |
| Cave of Solitude | Building | 0.512% | 0.360% | 0.394% | 0.394% | 0.394% | 0.394% | 0.397% | 0.777% | 0.418% |
| Corn Parthenon | Building | 0.512% | 0.360% | 0.394% | 0.394% | 0.394% | 0.394% | 0.397% | 0.777% | 0.418% |
| Nicelands Tower | Building | 0.512% | 0.360% | 0.394% | 0.394% | 0.394% | 0.394% | 0.397% | 0.777% | 0.418% |
| Sand Sphinx | Building | 0.512% | 0.360% | 0.394% | 0.394% | 0.394% | 0.394% | 0.397% | 0.777% | 0.418% |
| Chest Buster | Regular Creature | 0.512% | 0.360% | 0.394% | 0.394% | 1.969% | 0.394% | 0.397% | 0.777% | 0.418% |
| Cornataur | Regular Creature | 0.512% | 0.360% | 1.969% | 0.394% | 0.394% | 0.394% | 0.397% | 0.777% | 0.418% |
| Detective Sally | Regular Creature | 0.512% | 0.360% | 0.394% | 0.394% | 0.394% | 0.394% | 0.397% | 0.777% | 0.418% |
| Dragon Foot | Regular Creature | 0.512% | 0.360% | 0.394% | 1.969% | 0.394% | 0.394% | 0.397% | 0.777% | 0.418% |
| Farmer Tom | Regular Creature | 0.512% | 0.360% | 0.394% | 0.394% | 0.394% | 1.969% | 0.397% | 0.777% | 0.418% |
| Field Reaper | Regular Creature | 0.512% | 0.360% | 1.969% | 0.394% | 0.394% | 0.394% | 0.397% | 0.777% | 0.418% |
| Field Stalker | Regular Creature | 0.512% | 0.360% | 1.969% | 0.394% | 0.394% | 0.394% | 0.397% | 0.777% | 0.418% |
| Fummy | Regular Creature | 0.512% | 0.360% | 0.394% | 0.394% | 0.394% | 0.394% | 1.985% | 0.777% | 0.418% |
| Ghost Hag | Regular Creature | 0.512% | 0.360% | 0.394% | 1.969% | 0.394% | 0.394% | 0.397% | 0.777% | 0.418% |
| Dark Angel | Regular Creature | 0.512% | 0.360% | 0.394% | 0.394% | 1.969% | 0.394% | 0.397% | 0.777% | 0.418% |
| Lady Mary | Regular Creature | 0.512% | 0.360% | 0.394% | 0.394% | 0.394% | 0.394% | 1.985% | 0.777% | 0.418% |
| Mama Spider | Regular Creature | 0.512% | 0.360% | 0.394% | 0.394% | 1.969% | 0.394% | 0.397% | 0.777% | 0.418% |
| Mary-Ann | Regular Creature | 0.512% | 0.360% | 1.969% | 0.394% | 0.394% | 0.394% | 0.397% | 0.777% | 0.418% |
| Phyllis | Regular Creature | 0.512% | 0.360% | 0.394% | 0.394% | 0.394% | 0.394% | 0.397% | 0.777% | 0.418% |
| Quadurai | Regular Creature | 0.512% | 0.360% | 0.394% | 0.394% | 0.394% | 0.394% | 0.397% | 0.777% | 0.418% |
| Sack O' Pain | Regular Creature | 0.512% | 0.360% | 0.394% | 0.394% | 0.394% | 1.969% | 0.397% | 0.777% | 0.418% |
| Sand Knight | Regular Creature | 0.512% | 0.360% | 0.394% | 0.394% | 0.394% | 0.394% | 1.985% | 0.777% | 0.418% |
| Sandwitch | Regular Creature | 0.512% | 0.360% | 0.394% | 0.394% | 0.394% | 0.394% | 1.985% | 0.777% | 0.418% |
| Sgt. Mushroom | Regular Creature | 0.512% | 0.360% | 0.394% | 0.394% | 0.394% | 1.969% | 0.397% | 0.777% | 0.418% |
| Steak Chop | Regular Creature | 0.512% | 0.360% | 0.394% | 0.394% | 1.969% | 0.394% | 0.397% | 0.777% | 0.418% |
| Struzann jinn | Regular Creature | 0.512% | 0.360% | 0.394% | 1.969% | 0.394% | 0.394% | 0.397% | 0.777% | 0.418% |
| The Pickler | Regular Creature | 0.512% | 0.360% | 0.394% | 0.394% | 0.394% | 0.394% | 0.397% | 0.777% | 0.418% |
| Travelin' Wizard | Regular Creature | 0.512% | 0.360% | 0.394% | 0.394% | 0.394% | 1.969% | 0.397% | 0.777% | 0.418% |
| Woadic Marauder | Regular Creature | 0.512% | 0.360% | 0.394% | 1.969% | 0.394% | 0.394% | 0.397% | 0.777% | 0.418% |
| Banana Butt | Spell | 0.512% | 0.360% | 0.394% | 0.394% | 0.394% | 0.394% | 0.397% | 0.777% | 0.418% |
| Pie Storm | Spell | 0.512% | 0.360% | 0.394% | 0.394% | 0.394% | 0.394% | 0.397% | 0.777% | 0.418% |
| Portal to Nowhere | Spell | 0.512% | 0.360% | 0.394% | 0.394% | 0.394% | 0.394% | 0.397% | 0.777% | 0.418% |
| Snake Eye Ring | Spell | 0.512% | 0.360% | 0.394% | 0.394% | 0.394% | 0.394% | 0.397% | 0.777% | 0.418% |
| Spirit Torch | Spell | 0.512% | 0.360% | 0.394% | 0.394% | 0.394% | 0.394% | 0.397% | 0.777% | 0.418% |
| Throne of Doom | Spell | 0.512% | 0.360% | 0.394% | 0.394% | 0.394% | 0.394% | 0.397% | 0.777% | 0.418% |
| Throne of Gloom | Spell | 0.512% | 0.360% | 0.394% | 0.394% | 0.394% | 0.394% | 0.397% | 0.777% | 0.418% |
| Unempty Coffin | Spell | 0.512% | 0.360% | 0.394% | 0.394% | 0.394% | 0.394% | 0.397% | 0.777% | 0.418% |
| Wizard Rawk | Spell | 0.512% | 0.360% | 0.394% | 0.394% | 0.394% | 0.394% | 0.397% | 0.388% | 0.418% |
| Obelisx of Vengeance | Building | 0.256% | 0.180% | 0.197% | 0.197% | 0.197% | 0.197% | 0.198% | 0.388% | 0.209% |
| Puffy Castle | Building | 0.256% | 0.180% | 0.197% | 0.197% | 0.197% | 0.197% | 0.198% | 0.388% | 0.209% |
| School House | Building | 0.256% | 0.180% | 0.197% | 0.197% | 0.197% | 0.197% | 0.198% | 0.388% | 0.209% |
| Spirit Tower | Building | 0.256% | 0.180% | 0.197% | 0.197% | 0.197% | 0.197% | 0.198% | 0.388% | 0.209% |
| Big Foot gold | Gold Creature | 0.256% | 0.180% | 0.197% | 0.197% | 0.197% | 0.197% | 0.198% | 0.194% | 0.626% |
| Corn Ronin gold | Gold Creature | 0.256% | 0.180% | 0.985% | 0.197% | 0.197% | 0.197% | 0.198% | 0.194% | 0.626% |
| Detective Bobby gold | Gold Creature | 0.256% | 0.180% | 0.197% | 0.197% | 0.197% | 0.985% | 0.198% | 0.194% | 0.626% |
| Dog Boy gold | Gold Creature | 0.256% | 0.180% | 0.197% | 0.197% | 0.197% | 0.985% | 0.198% | 0.194% | 0.626% |
| Earl gold | Gold Creature | 0.256% | 0.180% | 0.197% | 0.197% | 0.197% | 0.197% | 0.198% | 0.194% | 0.626% |
| Future Scholar gold | Gold Creature | 0.256% | 0.180% | 0.197% | 0.197% | 0.197% | 0.197% | 0.198% | 0.194% | 0.626% |
| Ghost Ninja gold | Gold Creature | 0.256% | 0.180% | 0.197% | 0.197% | 0.197% | 0.197% | 0.198% | 0.194% | 0.626% |
| Green Mermaid gold | Gold Creature | 0.256% | 0.180% | 0.197% | 0.197% | 0.985% | 0.197% | 0.198% | 0.194% | 0.626% |
| Heifergeist gold | Gold Creature | 0.256% | 0.180% | 0.197% | 0.985% | 0.197% | 0.197% | 0.198% | 0.194% | 0.626% |
| Huskerbat gold | Gold Creature | 0.256% | 0.180% | 0.985% | 0.197% | 0.197% | 0.197% | 0.198% | 0.194% | 0.626% |
| Ice Paladin gold | Gold Creature | 0.256% | 0.180% | 0.197% | 0.197% | 0.197% | 0.197% | 0.198% | 0.194% | 0.626% |
| Mud Angel gold | Gold Creature | 0.256% | 0.180% | 0.197% | 0.197% | 0.197% | 0.197% | 0.992% | 0.194% | 0.626% |
| Patchy the Pumpkin gold | Gold Creature | 0.256% | 0.180% | 0.985% | 0.197% | 0.197% | 0.197% | 0.198% | 0.194% | 0.626% |
| Psionic Architect gold | Gold Creature | 0.256% | 0.180% | 0.197% | 0.985% | 0.197% | 0.197% | 0.198% | 0.194% | 0.626% |
| Punk Cat gold | Gold Creature | 0.256% | 0.180% | 0.197% | 0.985% | 0.197% | 0.197% | 0.198% | 0.194% | 0.626% |
| Record Thug gold | Gold Creature | 0.256% | 0.180% | 0.197% | 0.197% | 0.985% | 0.197% | 0.198% | 0.194% | 0.626% |
| Red Eyeling gold | Gold Creature | 0.256% | 0.180% | 0.197% | 0.197% | 0.985% | 0.197% | 0.198% | 0.194% | 0.626% |
| Sand Jackal gold | Gold Creature | 0.256% | 0.180% | 0.197% | 0.197% | 0.197% | 0.197% | 0.992% | 0.194% | 0.626% |
| Sandfoot gold | Gold Creature | 0.256% | 0.180% | 0.197% | 0.197% | 0.197% | 0.197% | 0.992% | 0.194% | 0.626% |
| Temporal Wisp gold | Gold Creature | 0.256% | 0.180% | 0.197% | 0.985% | 0.197% | 0.197% | 0.198% | 0.194% | 0.626% |
| The Cow gold | Gold Creature | 0.256% | 0.180% | 0.197% | 0.197% | 0.197% | 0.985% | 0.198% | 0.194% | 0.626% |
| The Sludger gold | Gold Creature | 0.256% | 0.180% | 0.985% | 0.197% | 0.197% | 0.197% | 0.198% | 0.194% | 0.626% |
| Tree of Underneath gold | Gold Creature | 0.256% | 0.180% | 0.197% | 0.197% | 0.985% | 0.197% | 0.198% | 0.194% | 0.626% |
| Wall of Sand gold | Gold Creature | 0.256% | 0.180% | 0.197% | 0.197% | 0.197% | 0.197% | 0.992% | 0.194% | 0.626% |
| Well Dressed Wolf gold | Gold Creature | 0.256% | 0.180% | 0.197% | 0.197% | 0.197% | 0.985% | 0.198% | 0.194% | 0.626% |
| Cactus Thug | Regular Creature | 0.256% | 0.180% | 0.197% | 0.197% | 0.197% | 0.197% | 0.992% | 0.388% | 0.209% |
| Captain Taco | Regular Creature | 0.256% | 0.180% | 0.985% | 0.197% | 0.197% | 0.197% | 0.198% | 0.388% | 0.209% |
| Corn Lord | Regular Creature | 0.256% | 0.180% | 0.985% | 0.197% | 0.197% | 0.197% | 0.198% | 0.388% | 0.209% |
| Cottonsaurus Rex | Regular Creature | 0.256% | 0.180% | 0.197% | 0.197% | 0.197% | 0.985% | 0.198% | 0.388% | 0.209% |
| Davey Bear | Regular Creature | 0.256% | 0.180% | 0.197% | 0.197% | 0.985% | 0.197% | 0.198% | 0.388% | 0.209% |
| Diamond Dan | Regular Creature | 0.256% | 0.180% | 0.197% | 0.985% | 0.197% | 0.197% | 0.198% | 0.388% | 0.209% |
| Dr. Death | Regular Creature | 0.256% | 0.180% | 0.197% | 0.197% | 0.985% | 0.197% | 0.198% | 0.388% | 0.209% |
| Drooling Dude | Regular Creature | 0.256% | 0.180% | 0.197% | 0.197% | 0.197% | 0.197% | 0.198% | 0.388% | 0.209% |
| Embarrassing Bard | Regular Creature | 0.256% | 0.180% | 0.197% | 0.985% | 0.197% | 0.197% | 0.198% | 0.388% | 0.209% |
| Fluffantry | Regular Creature | 0.256% | 0.180% | 0.197% | 0.197% | 0.197% | 0.985% | 0.198% | 0.388% | 0.209% |
| Good King Wonderful | Regular Creature | 0.256% | 0.180% | 0.197% | 0.197% | 0.197% | 0.985% | 0.198% | 0.388% | 0.209% |
| Husker Giant | Regular Creature | 0.256% | 0.180% | 0.985% | 0.197% | 0.197% | 0.197% | 0.198% | 0.388% | 0.209% |
| Immortal Maize Walker | Regular Creature | 0.256% | 0.180% | 0.197% | 0.197% | 0.985% | 0.197% | 0.198% | 0.388% | 0.209% |
| Legion of Earlings | Regular Creature | 0.256% | 0.180% | 0.985% | 0.197% | 0.197% | 0.197% | 0.198% | 0.388% | 0.209% |
| Lost Golem | Regular Creature | 0.256% | 0.180% | 0.197% | 0.197% | 0.197% | 0.197% | 0.198% | 0.388% | 0.209% |
| Mother Fluff Bucket | Regular Creature | 0.256% | 0.180% | 0.197% | 0.197% | 0.197% | 0.985% | 0.198% | 0.388% | 0.209% |
| Pieclops | Regular Creature | 0.256% | 0.180% | 0.197% | 0.197% | 0.197% | 0.197% | 0.992% | 0.388% | 0.209% |
| Porcelain Guardian | Regular Creature | 0.256% | 0.180% | 0.197% | 0.197% | 0.197% | 0.197% | 0.198% | 0.388% | 0.209% |
| Rainbow Barfer | Regular Creature | 0.256% | 0.180% | 0.197% | 0.197% | 0.985% | 0.197% | 0.198% | 0.388% | 0.209% |
| Sandy | Regular Creature | 0.256% | 0.180% | 0.197% | 0.197% | 0.197% | 0.197% | 0.992% | 0.388% | 0.209% |
| The Mariachi | Regular Creature | 0.256% | 0.180% | 0.197% | 0.197% | 0.197% | 0.197% | 0.198% | 0.388% | 0.209% |
| Woadic Chief | Regular Creature | 0.256% | 0.180% | 0.197% | 0.985% | 0.197% | 0.197% | 0.198% | 0.388% | 0.209% |
| X-Large Spirit Soldier | Regular Creature | 0.256% | 0.180% | 0.197% | 0.985% | 0.197% | 0.197% | 0.198% | 0.388% | 0.209% |
| Brief Power | Spell | 0.256% | 0.180% | 0.197% | 0.197% | 0.197% | 0.197% | 0.198% | 0.388% | 0.209% |
| Door of Strength | Spell | 0.256% | 0.180% | 0.197% | 0.197% | 0.197% | 0.197% | 0.198% | 0.388% | 0.209% |
| Scroll of Bad Breath | Spell | 0.256% | 0.180% | 0.197% | 0.197% | 0.197% | 0.197% | 0.198% | 0.388% | 0.209% |
| Skull Juice | Spell | 0.256% | 0.180% | 0.197% | 0.197% | 0.197% | 0.197% | 0.198% | 0.388% | 0.209% |
| Ultimate Magic Hands | Spell | 0.256% | 0.180% | 0.197% | 0.197% | 0.197% | 0.197% | 0.198% | 0.388% | 0.209% |
| ZaZo's Magic Seeds | Spell | 0.256% | 0.180% | 0.197% | 0.197% | 0.197% | 0.197% | 0.198% | 0.388% | 0.209% |
| Chest Buster gold | Gold Creature | 0.153% | 0.108% | 0.118% | 0.118% | 0.591% | 0.118% | 0.119% | 0.233% | 0.376% |
| Cornataur gold | Gold Creature | 0.153% | 0.108% | 0.591% | 0.118% | 0.118% | 0.118% | 0.119% | 0.233% | 0.376% |
| Dark Angel gold | Gold Creature | 0.153% | 0.108% | 0.118% | 0.118% | 0.591% | 0.118% | 0.119% | 0.233% | 0.376% |
| Detective Sally gold | Gold Creature | 0.153% | 0.108% | 0.118% | 0.118% | 0.118% | 0.118% | 0.119% | 0.233% | 0.376% |
| Dragon Foot gold | Gold Creature | 0.153% | 0.108% | 0.118% | 0.591% | 0.118% | 0.118% | 0.119% | 0.233% | 0.376% |
| Farmer Tom gold | Gold Creature | 0.153% | 0.108% | 0.118% | 0.118% | 0.118% | 0.591% | 0.119% | 0.233% | 0.376% |
| Field Reaper gold | Gold Creature | 0.153% | 0.108% | 0.591% | 0.118% | 0.118% | 0.118% | 0.119% | 0.233% | 0.376% |
| Field Stalker gold | Gold Creature | 0.153% | 0.108% | 0.591% | 0.118% | 0.118% | 0.118% | 0.119% | 0.233% | 0.376% |
| Fummy gold | Gold Creature | 0.153% | 0.108% | 0.118% | 0.118% | 0.118% | 0.118% | 0.595% | 0.233% | 0.376% |
| Ghost Hag gold | Gold Creature | 0.153% | 0.108% | 0.118% | 0.591% | 0.118% | 0.118% | 0.119% | 0.233% | 0.376% |
| Lady Mary gold | Gold Creature | 0.153% | 0.108% | 0.118% | 0.118% | 0.118% | 0.118% | 0.595% | 0.233% | 0.376% |
| Mama Spider gold | Gold Creature | 0.153% | 0.108% | 0.118% | 0.118% | 0.591% | 0.118% | 0.119% | 0.233% | 0.376% |
| Mary-Ann gold | Gold Creature | 0.153% | 0.108% | 0.591% | 0.118% | 0.118% | 0.118% | 0.119% | 0.233% | 0.376% |
| Phyllis gold | Gold Creature | 0.153% | 0.108% | 0.118% | 0.118% | 0.118% | 0.118% | 0.119% | 0.233% | 0.376% |
| Quadurai gold | Gold Creature | 0.153% | 0.108% | 0.118% | 0.118% | 0.118% | 0.118% | 0.119% | 0.233% | 0.376% |
| Sack O' Pain gold | Gold Creature | 0.153% | 0.108% | 0.118% | 0.118% | 0.118% | 0.591% | 0.119% | 0.233% | 0.376% |
| Sand Knight gold | Gold Creature | 0.153% | 0.108% | 0.118% | 0.118% | 0.118% | 0.118% | 0.595% | 0.233% | 0.376% |
| Sandwitch gold | Gold Creature | 0.153% | 0.108% | 0.118% | 0.118% | 0.118% | 0.118% | 0.595% | 0.233% | 0.376% |
| Sgt. Mushroom gold | Gold Creature | 0.153% | 0.108% | 0.118% | 0.118% | 0.118% | 0.591% | 0.119% | 0.233% | 0.376% |
| Steak Chop gold | Gold Creature | 0.153% | 0.108% | 0.118% | 0.118% | 0.591% | 0.118% | 0.119% | 0.233% | 0.376% |
| Struzann jinn gold | Gold Creature | 0.153% | 0.108% | 0.118% | 0.591% | 0.118% | 0.118% | 0.119% | 0.233% | 0.376% |
| The Pickler gold | Gold Creature | 0.153% | 0.108% | 0.118% | 0.118% | 0.118% | 0.118% | 0.119% | 0.233% | 0.376% |
| Travelin' Wizard gold | Gold Creature | 0.153% | 0.108% | 0.118% | 0.118% | 0.118% | 0.591% | 0.119% | 0.233% | 0.376% |
| Woadic Marauder gold | Gold Creature | 0.153% | 0.108% | 0.118% | 0.591% | 0.118% | 0.118% | 0.119% | 0.233% | 0.376% |
| Cactus Thug gold | Gold Creature | 0.051% | 0.036% | 0.039% | 0.039% | 0.039% | 0.039% | 0.198% | 0.078% | 0.125% |
| Captain Taco gold | Gold Creature | 0.051% | 0.036% | 0.197% | 0.039% | 0.039% | 0.039% | 0.040% | 0.078% | 0.125% |
| Corn Lord gold | Gold Creature | 0.051% | 0.036% | 0.197% | 0.039% | 0.039% | 0.039% | 0.040% | 0.078% | 0.125% |
| Cottonsaurus Rex gold | Gold Creature | 0.051% | 0.036% | 0.039% | 0.039% | 0.039% | 0.197% | 0.040% | 0.078% | 0.125% |
| Davey Bear gold | Gold Creature | 0.051% | 0.036% | 0.039% | 0.039% | 0.197% | 0.039% | 0.040% | 0.078% | 0.125% |
| Diamond Dan gold | Gold Creature | 0.051% | 0.036% | 0.039% | 0.197% | 0.039% | 0.039% | 0.040% | 0.078% | 0.125% |
| Dr. Death gold | Gold Creature | 0.051% | 0.036% | 0.039% | 0.039% | 0.197% | 0.039% | 0.040% | 0.078% | 0.125% |
| Drooling Dude gold | Gold Creature | 0.051% | 0.036% | 0.039% | 0.039% | 0.039% | 0.039% | 0.040% | 0.078% | 0.125% |
| Embarrassing Bard gold | Gold Creature | 0.051% | 0.036% | 0.039% | 0.197% | 0.039% | 0.039% | 0.040% | 0.078% | 0.125% |
| Fluffantry gold | Gold Creature | 0.051% | 0.036% | 0.039% | 0.039% | 0.039% | 0.197% | 0.040% | 0.078% | 0.125% |
| Good King Wonderful gold | Gold Creature | 0.051% | 0.036% | 0.039% | 0.039% | 0.039% | 0.197% | 0.040% | 0.078% | 0.125% |
| Husker Giant gold | Gold Creature | 0.051% | 0.036% | 0.197% | 0.039% | 0.039% | 0.039% | 0.040% | 0.078% | 0.125% |
| Immortal Maize Walker gold | Gold Creature | 0.051% | 0.036% | 0.039% | 0.039% | 0.197% | 0.039% | 0.040% | 0.078% | 0.125% |
| Legion of Earlings gold | Gold Creature | 0.051% | 0.036% | 0.197% | 0.039% | 0.039% | 0.039% | 0.040% | 0.078% | 0.125% |
| Lost Golem gold | Gold Creature | 0.051% | 0.036% | 0.039% | 0.039% | 0.039% | 0.039% | 0.198% | 0.078% | 0.125% |
| Mother Fluff Bucket gold | Gold Creature | 0.051% | 0.036% | 0.039% | 0.039% | 0.039% | 0.197% | 0.040% | 0.078% | 0.125% |
| Porcelain Guardian gold | Gold Creature | 0.051% | 0.036% | 0.039% | 0.039% | 0.039% | 0.039% | 0.040% | 0.078% | 0.125% |
| Rainbow Barfer gold | Gold Creature | 0.051% | 0.036% | 0.039% | 0.039% | 0.197% | 0.039% | 0.040% | 0.078% | 0.125% |
| Sandy gold | Gold Creature | 0.051% | 0.036% | 0.039% | 0.039% | 0.039% | 0.039% | 0.198% | 0.078% | 0.125% |
| The Mariachi gold | Gold Creature | 0.051% | 0.036% | 0.039% | 0.039% | 0.039% | 0.039% | 0.040% | 0.078% | 0.125% |
| Pieclops gold | Gold Creature | 0.051% | 0.036% | 0.039% | 0.039% | 0.039% | 0.039% | 0.198% | 0.078% | 0.125% |
| Woadic Chief gold | Gold Creature | 0.051% | 0.036% | 0.039% | 0.197% | 0.039% | 0.039% | 0.040% | 0.078% | 0.125% |
| X-Large Spirit Soldier gold | Gold Creature | 0.051% | 0.036% | 0.039% | 0.197% | 0.039% | 0.039% | 0.040% | 0.078% | 0.125% |