Welcome to the Card Wars Wiki!

Card Wars is a board game app that resembles the Adventure Time Card Wars episode. This game has a slight taste of RPG, a lot of complexity, and infinite fun! This wiki will tell you the rules, cards strategies, and have a page to show your creations of cards!
Available on both iOS and Android system.

The wiki currently has 424 articles since February 17, 2014.
Card Wars Kingdom is out!
There's a sequel now: Card Wars Kingdom! Look it up.
Card wars kingdom wiki needs your help
The Episode
In this section here, you can find information about the actual episode that ran on TV!
Adventure Time Card Wars TCG
Here you can find the real life Card Wars game's Wiki. You can also check the Card Game's official website here.
Quick Guide
Halloween Update
Holiday Update
Fionna & Cake Update
Promoting, cheating, and/or exploiting the time-based features of the game is not permitted here. Cheating by other means such as taking advantage of in-game glitches and errors is also not permitted.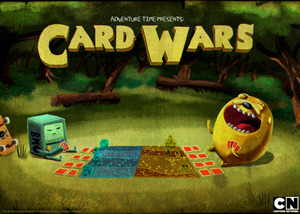 Latest Activity
<wikiaforum/> <bloglist summary="true" timestamp="true" count=5 style="border:none; margin:-5px 0 0;"> We do not own or take any credit for The Adventure Time TV series or The Card Wars Game.
(C) Cartoon Network All Rights reserved.